Christina Eckel, M. Sc.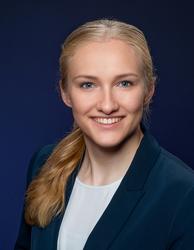 Address

Hamburg University of Technology


Elektrische Energietechnik


Harburger Schloßstraße 36
21079 Hamburg

Office

Building HS36
Room C3 0.006

Phone

Tel: +49 40 42878 2377
Fax: +49 40 42878 2382

Email

Office Hours

nach Vereinbarung
---
Smart Grid Technologien
Semester:
WiSe 21/22
Veranstaltungstyp:
Vorlesung (Lehre)
Veranstaltungsnummer:
lv2706
DozentIn:
Dr. Davood Babazadeh, Prof. Dr.-Ing. Christian Becker, Christina Eckel, M. Sc, Marwan Mostafa, M. Sc
Beschreibung:
The course covers in general the topics related to digitalisation of power systems (or in other word Smart Grids). First, the students learn the drivers of smart grids such as distribution generation, energy storages and micro-grids. The digitalisation technologies/tools related to smart grids such as advanced metering, Internet of Things (IoT) and Computational Intelligence (AI/ML) are introduced and the students learn how to use these tools to secure the optimal operation of future distribution grids with high penetration of renewables. In addition to theoretical aspect, the practical and real-life examples of Smart Grid trends are presented by industrial experts.
Voraussetzungen:
Fundamentals of Electrical Engineering, Mathematics I, II, III Electrical Power Systems I Electrical Power Systems II (or taken in parallel)
Lernorganisation:
This course includes: - Lectures - Discussion sessions - Lab exercise - Mini project
Leistungsnachweis:
Oral and written exam
Bereichseinordnung:
Studiendekanat Elektrotechnik, Informatik und Mathematik
Weitere Informationen aus Stud.IP zu dieser Veranstaltung
Heimatinstitut: Elektrische Energietechnik (E-6)
In Stud.IP angemeldete Teilnehmer: 27
Anzahl der Dokumente im Stud.IP-Downloadbereich: 42
Supervised Theses (finished)
2022
Kumar, M. (2022). Modellierung und Vergleich des Frequenzverhaltens dezentraler Anlagen mit netzbildenden Eigenschaften oder beigestellter Schwungmasse.


Lim, I. (2022). Modelling and Integration of a Hydrogen Storage Power Plant in the 10-Machine New-England Power System.


Rieckborn, N. (2022). Modellierung des Umwandlungsprozesses eines Wasserstoffspeicherkraftwerks.