Dr.-Ing. Swantje Pietsch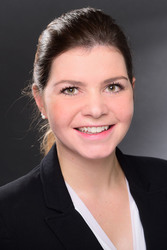 Address

Hamburg University of Technology


Solids Process Engineering and Particle Technology


Denickestraße 15 (K)
21073 Hamburg

Office

Building K
Room 2516

Phone

Tel: +49 40 42878 3139


Email
Research project
In this research project the flow stability in a three-dimensional laboratory spouted bed is investigated experimentally and with coupled CFD-DEM simulations. It was found that the stability range can be increased by the insertion of two parallel draft plates. By means of the CFD-DEM simulations it has been shown that for coating purposes the instable spouting is advantageous for obtaining a homogeneuos coating layer as the mixing in the depth of the apparatus is enhanced. The coating quality was investigated experimentally by means of digital image analysis.
In addition, the residence time behavior in a continuous pilot scale spouted bed is characterized by means of a novel tracer method. Magnetizable particles are used as tracer which allows a fast and easy concentration measurement at the outflow and thus the calculation of the residence time.
Further information can be found here.
Publications
2021
2020
2019
2018
2017
2016