Prof. Dr.-Ing. Bernd-Christian Renner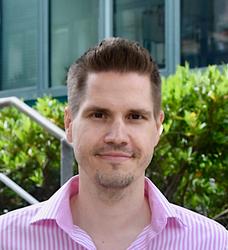 Address

Hamburg University of Technology



Am Irrgarten 3-9 (Q)
21073 Hamburg

Office

Building Q
Room 1.038

Phone

Tel: +49 40 42878 4884


Email

Office Hours

nach Vereinbarung
about me
I am currently a junior professor (assistant professor) and head of the independent research group smartPORT at Hamburg University of Technology (TUHH) since April 2016. My research interests include applications of networked sensing and embedded systems, particularly aiming at energy harvesting and networking aspects, and mobile underwater swarm robotics with a special focus on underwater acoustic communication and localization. In these domains, I am covering theoretical, algorithmic, and practical aspects, ranging from computer science over applied mathematics to electronics.
I studied Computer Science and Engineering from 2003 to 2008 at TUHH, spending one semester at ETH Zürich, and received my Diploma degree (Dipl.-Ing.) in 2008 from TUHH. My doctoral studies were at the Institute of Telematics at TUHH from 2008 until 2012, from where I received my Ph.D. (Dr.-Ing.) in 2013. From 2012 to 2016, I worked as a lecturer and post doctoral researcher at the Institute of Computer Engineering of the University of Lübeck.
I have been reviewer for International journals (e.g., ACM TOSN, IEEE Sensors) and conferences (e.g., ACM EWSN), and I have been involved with organizing the ENSsys workshop since 2013. I have published over 40 scientific papers, of which three were selected for a best paper award. I am an alumnus of the Studienstiftung des Deutschen Volkes and was awarded the Diploma Prize by the Stiftung zur Förderung der TU Hamburg-Harburg (TUHH Foundation). My dissertation thesis was nominated for the disseration award of the GI (Gesellschaft für Informatik) and awarded the Karl-Heinz-Ditze Prize of TUHH. In 2014, I received the Walter Dosch Teaching Award from the University of Lübeck.