Christian Busse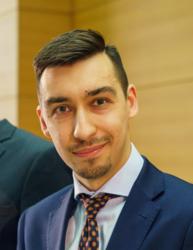 Address

Hamburg University of Technology


smartPORT


Am Irrgarten 3-9 (Q)
21073 Hamburg

Office

Building Q
Room 1.005

Phone

Tel: +49 40 42878 4048


Email
about me
I joined the smartPORT group at Hamburg University of Technology (TUHH) as a research assistant in April 2020. My background is mechatronics engineering with experience in quadcopter control design and multi-physical modeling and simulation. I graduated from Ilmenau University of Technology and spent two semesters abroad in Russia at ITMO University (Saint Petersburg) and one semester at KNRTU-KAI (Kazan).
My current research focuses on localization and navigation of autonomous underwater vehicles (AUVs) using acoustic communication. I am also interested in:
modeling and control design of underwater mobile robots,
data-driven modeling and optimal control,
multi-sensor data fusion and path planning for autonomous mobile robots.
If you are looking for an academic thesis (Bachelor/Master) in one of the research topics mentioned above, please feel free to contact me.