Institute of Optical Communication Technology
Institut für Optische Kommunikationstechnik

The Institute of Optical Communications at Hamburg University of Technology (TUHH) was established in 2000 and headed ever since by Prof. Dr. Ernst Brinkmeyer. It emanated from the former Institute of Optics and Instrumentation (active from 1982 through 2000, headed by Prof. Dr. Reinhard Ulrich). In 2013 Prof. Brinkmeyer retired and the Institute of Optical Communications was subsequently shut down.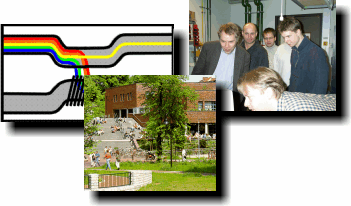 The main research topics from 2000 to 2013 were as follows:
Fiber Bragg Gratings
UV-written planar waveguides
Polarization mode dispersion
Raman Fiber Lasers
Raman amplification and lasing in silicon
Measurement techniques in optical communications
CW Doppler Lidar
Silicon photonics

See Overview and Publications

Six prizes were awarded to students and coworkers of the Institute of Optical Communication Technology :
Preis der Metall- und Elektro-Industrie (twice)
Ditze-Preis
Sick-Förderpreis
Celtic Innovation Award
Eureka Innovation Awar
One start-up company was successfully established by members of the Institute of Optical Communication Technology:
Adaptif Photonics which became and still is a world-wide leading company in optical polarization instrumentation (later taken over by Agilent/Keysight)

---