Christina Eckel, M. Sc.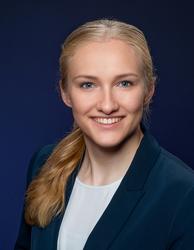 Address

Hamburg University of Technology


Elektrische Energietechnik


Harburger Schloßstraße 36
21079 Hamburg

Office

Building HS36
Room C3 0.006

Phone

Tel: +49 40 42878 2377
Fax: +49 40 42878 2382

Email

Office Hours

nach Vereinbarung
---
Supervised Theses (finished)
2022
Kumar, M. (2022). Modellierung und Vergleich des Frequenzverhaltens dezentraler Anlagen mit netzbildenden Eigenschaften oder beigestellter Schwungmasse.


Lim, I. (2022). Modelling and Integration of a Hydrogen Storage Power Plant in the 10-Machine New-England Power System.


Rieckborn, N. (2022). Modellierung des Umwandlungsprozesses eines Wasserstoffspeicherkraftwerks.