Applying for admission at Hamburg University of Technology
You are a prospective student interested in applying for a full degree program (Bachelor/Master or PHD) at the TUHH
The ZSB-Student Counseling Center will supports prospective students in determining the course of study best suited to their needs and wishes.
The STUDIES- Admission and Registration Office will inform you about the admissions requirements and application process.
The PHD Office will inform you about the admissions requirements and application process.
You are enrolled at one of our partner universities and would like to spend one or two semesters at TUHH as an exchange student?
The International Office will inform you about admission requirements and assist you through the entire application process. You can complete your exchange program at TUHH event without the extensive knowledge of German. Many courses ar taught entirely in English.
For courses taught in English check the Study Packages according to the specific school of study:
For application details check: How to apply for exchange studies
You would like to come to TUHH for a short-term project or internship (study project, bachelor or master thesis)?
The TUHH Researach Institutes will provide you a contact with relevant supervising professor, as well as the information on your short term reserach opportunity and assist with application questions.
For detailed information on short-term student stays and how to register at TUHH please check: Visitng international research students
For detailed information on doctoral research stays check: Guest researchers
---
Managing your TUHH studies

Are you an international student currently enrolled at TUHH for a bachelor-, masterdegree or exchange program? You can turn to the International Office if you need assistance with initial orientation at the beginning of your stay in Hamburg and at TUHH, general counselling in the case of social problems and decision making, financial support and scholarships, social events and networking activities.
Please check our orientation activities and supporting offers here
________________________________________________________________________________________________________
The TUHH supports the National Code of Conduct for German Universities Regarding International Students.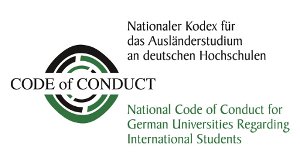 This Code of Conduct aims to ensure that students from abroad receive the quality of support and advice needed when studying in Germany. The guiding principle is, wherever possible, to grant international students the same rights as are available to German or EU students. Any non-compliance with the National Code of Conduct could be reported to Nicole Frei, Manager of Internationalisation at TUHH.