International Students@TUHH
TUHH welcomes many international students each year. Your ways to TUHH and your first contact may vary depending on whether you are an exchange student from a partner university, a prospective student interested in studying for a full degree at TUHH or whether you wish to visit TUHH as a non-degree student for a short stay to do project work or a research internship.
If you are an international student currently enrolled at TUHH for a bachelor or a master degree, you can turn to the International Office if you need assistance with initial orientation at the beginning of your stay in Hamburg and at TUHH, general counselling in the case of social problems and decision making, financial support, scholarships, social and networking activities.


International students´ advisors at the TUHH International Office:
Ms Annabell Jäger: Information Desk International - first point of contact for incoming students
Ms Malgorzata Safari: general counceling in questions regarding TUHH orientation and integration/ Integration Programs: Welcome@TUHH and Artroom@TUHH
Ms Kathrin Heuking: responsible for intercultural and supporting programs for international bachelor students/German as a foreign language

Ms Jutta Janzen: responsible for exchange students/ grants and scholarships for international degree students at TUHH.
Ms Aylin Kruse: Accommodation Office for international degree students and exchange students at TUHH.
Our consulting focus:
Funding & Scholarships for International TUHH Students
Please note, that for some scholarships you can only apply before you start studying in Germany.
Only complete applications, that are handed in in due time, can be successful. Make sure to arrange counseling appointsments and appointments for the drafting of an academic assessment early enough.
In addition to the funding and scholarship opportunities listed below, you can also apply for a scholarship to a variety of foundations in Germany.
International students can apply to numerous organisations for a scholarship, for example to the DAAD, to party-related foundations or business-affiliated institutions. You can find information on the various types of scholarships in the DAAD scholarship database, along with suitable offers.
---
Grants and scholarships available at TUHH:
Financial Aid for Finalising your Degree
Who can apply:
International Students of TUHH who
...received their university entrance qualification abroad
...are about to finish their studies and graduate at TUHH within 12 month
...with a good academic record
...who are in need of financial help

Master students can only apply for financial aid for the last semester of their studies.
Sponsoring body: DAAD - German Academic Exchange Service
Scope and form of the Financial Aid:
The aid will be granted for a maximum period of 6 months.
Income through students jobs, financial support from family or spouses and other non-monetary prerequisits (e.g. rent-free accommodation) will be deducted from the full scholarship amount.
Application & Information:
Offline & paperbased. The official application form is available during the ongoing application phase. Printouts will be available at the International Office (Ms Janzen) and the general info desk (Infothek)
Application period: End of February, call with specific dates will be published here
Assistance for financial crisis
Who can apply: International TUHH students in financial distress. Proof for the financial distress is required.
Sponsoring body: Studierendenwerk Hamburg, Diakonisches Werk Hamburg
Scope and form of the Financial Aid: lump-sum payment
Application & Information:
Beratungszentrum Studienfinanzierung
Grindelallee 9; Raum 605
Tel : 42815 5144;-5145
E-Mail : bafoeg@studierendenwerk-hamburg.de

Diakonisches Werk HH
Königstraße 54; Zi 338
22767 Hamburg
Tel.: 30 620 0382
E-Mail: notfonds@diakonie-hamburg.de
Frau Bröker; Di 10 -15 Uhr

Zentrale Studienberatung TUHH/ Infothek
Am Schwarzenberg-Campus 3; Raum 0022
Application period: all year long
merit grant / achievement allowance
Who can apply: TUHH students with good and outstanding academic performance
Sponsoring body: Free and Hanseatic City of Hamburg
Scope and Form of the Financial Aid: Financial aid for up to 12 months
Application & Information:
Offline & paperbased. The official application form is available during the ongoing application phase. Printouts will be available at the International Office (Ms Janzen) and the general info desk (Infothek)
Application period: April, call with specific dates will be published here
Please, turn to the TUHH International Office as well as the Student Counseling Center should you have questions concerning the financing of your studies or financial problems.
Learning German
1.TUHH German Language Courses

The TUHH offers various German language courses. More detailled information can be found at the TUHH website.


2. Language Coaching
Uta Bories - a long-term experienced German teacher - provides advice on all questions concerning the improvement and certification of German language skills (e.g. courses inside and outside of TUHH, how to optimize your language learning).

Please contact graduiertenakademie(at)tuhh.de to make an appointment.


3. Literature and Culture (Brückenkurs Literatur und Kultur)
This course invites the participants to explore cultural aspects through literature. Culture knows no boundaries, for that reason exhibitions, stage performances, films etc. might be also part of the schedule.
The course is offered in German. Very good German language skills are required. Please find further information at our welcome@TUHH website.

4. Workshops offered by the TUHH Career Center
The TUHH Career Center offers several workshops if you want to apply for a job in Germany.
Lebenslauf (DaF) + Fotoshooting
Bewerbungen schreiben (DaF) + Fotoshooting
Vorstellungsgespräche (DaF) + Fotoshooting
These workshops are tailored for international students. German language proficiency on at least B1 is required.

Please find further information at the TUHH Career Center website.

5. Workshop: Starting your Career in Germany! (Erfolgreich in den Beruf starten!)
In this workshop you will practise attending job interviews in German language, as well as writing CV´s and cover letters for a job. You will also learn how to ensure a smooth start into your new job, how to communicate and to avoid intercultural misunderstandings. Here you can find further information.
Orientation and Networking Programs
Our intercultural programs Welcome@TUHH and ArtRoom@TUHH are developed to offer you assistance at the beginning of your studies at TUHH. They also accompany you through your whole degree program and help you to integrate into the campus community more easily. A further goal of the programs is to help you to develop skills which will make you stay at TUHH more successful!
The program is supported by international and german student tutors who are very well acquainted with both studying at the TUHH and living in Hamburg. They help you to sort out questions about study organization, accompany you to orientation and cultural activities and offer you a chance of joining a study group.
Find out more by visiting the program´s webpages at: Welcome@TUHH and ArtRoom@TUHH.
Developing personal and intercultural skills

Various service units at TUHH and schools of study are working together to offer advice and services for international students at TUHH (International Office, Career Service, Student Counseling Center, STUDIS, specific units in the schools of study). The programs and projects offered have the goal to help you to develop skills which can be useful for the successful accomplishment of your studies. Please make use of these offers and make the best of your stay at TUHH.
StudyBuddy@TUHH
Have you recently started as a bachelor freshman at TUHH and are studying a bachelor program in German language? If so, you might be interested in our StudyBuddy@TUHH program! Senior students will help you to survive the examination period, in case you plan to take one of the following exams: Mathematik 1, Mechanik 1, Chemie, Elektrotechnik. Study groups (2 hours a week) will meet from mid January until the examination. The tutors will suport you not only in academic matters but also give you advice how to learn effectively, how to organize one´s time or how to deal with stress. Further information can be found at our Welcome@TUHH website.
Language Café@TUHH
The idea is quite simple: Native speakers will chat with you in a nice atmosphere. You can brush up your foreign languages, make new friends and find out more about other cultures. More detailled information can be found here.
National Code of Conduct
The TUHH supports the National Code of Conduct for German Universities Regarding International Students.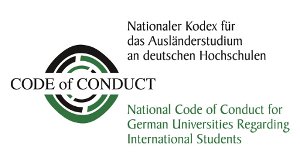 This Code of Conduct aims to ensure that students from abroad receive the quality of support and advice needed when studying in Germany. The guiding principle is, wherever possible, to grant international students the same rights as are available to German or EU students. Any non-compliance with the National Code of Conduct could be reported to Nicole Frei, Manager of Internationalisation at TUHH.