Bioprocess Engineering
Bioprocess Engineering Offers Opportunities

Biotechnology provides the basics for sustainable manufacturing of products to supply the world's population with foodstuffs, medications, and other essential goods. It requires interdisciplinary application of natural (especially biology and chemistry) and engineering sciences. Many everyday products are manufactured by means of biotechnical production processes.
Biotechnical material conversion is also used to utilize and minimize byproducts and residues in order to achieve sustainable production. Engineers with biotechnical expertise are needed to meet the growing global demand for the development and operation of biotechnical processes by which to manufacture essential everyday products.
At a Glance
Degree: Bachelor of Science
Duration of Study: 6 semesters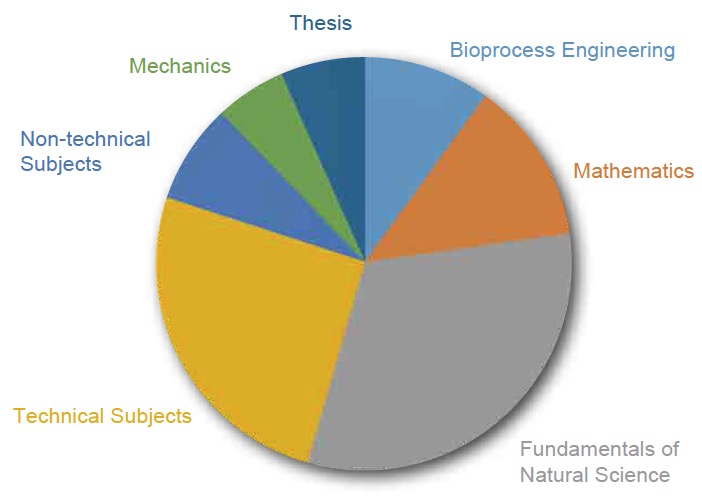 Before Studying
Career-related Placement
Students are required to serve a ten-week career-related placement. The best time to do so is before starting their studies. We urgently recommend you to do so. Practical work may be divided into several sections or different companies. Placements/internships count as education in the tertiary sector and qualify for BAföG student loans. Please read the Internship Regulations before taking up your internship. You will find them here.
Application and Admission
For Bachelor's study programs the Hamburg University of Technology (TUHH) has an online application procedure. Criteria for admission are the overall Abitur (German university entrance qualification) grade and math grades for the past four semesters. First-semester students are admitted only in the winter semester. The application period is from May to July 15. For admission requirements and details of the procedure, click here.
After Your B.Sc.
Further Study Programs
The following master's study programs are available for further studies. The study duration is four semesters.
Career Center and TU&You Alumni Network
The TUHH Career Center helps students to make the transition from university to a career. Its offerings range from careers fairs and the TUHH PraxisPlus internship program for prospective master's students at the TUHH to case study workshops and training sessions for job applications. The TU&YOU alumni network holds a wide range of events such as research afternoons, Homecoming events, and anniversary celebrations that enable students to make contacts with TUHH alumni.
www.tuhh.de/tuhh/uni/service/career-center.html
Important Contacts
Information on Study Program
The Infothek is where to go for detailed information on study programs and extensive information material. If required you can register for talks with prospective students or arrange for an interview with a faculty counselor in your subject. Here is how to contact Mrs. Preuß and Mrs. zur Borg at the Infothek:
Tel.: 040 428 78-2232, e-mail
Contacts for Students
In addition to the AStA, or Students' Union, the Process Engineering Student Council (Fachschaftsrat) is happy to provide information from the student's viewpoint at www.tuhh.de/fsrv.
International Students – Studying Abroad
The International Office advises and looks after international students. The International Office's website also contains information about studying abroad for TUHH students. The TUHH welcomes and promotes student exchange. If you have any queries, please contact the International Office.
Further Information
All admission modalities are laid down in the Satzung über das Studium (Statutes on Studying at the TUHH).
One precondition is a ten-week pre-study placement, the details of which are dealt with in the Internship Regulations. Proof of this internship is not finally required until you register for your thesis, but you are urgently recommended, for reasons of both content and organization, to serve it before taking up your studies.
The study program objectives specify the skills and competences that are acquired and proven by concluding a study program successfully. They serve both as a commitment and to provide transparency for the labor market.
The module manuals describe the details and learning objectives of the modules prescribed in the study plan. They also provide information about content, recommended previous knowledge, and preparatory literature.
The basic conditions of TUHH examinations are regulated by The General Provisions (ASPO) and the current regulation and course plan (FPSO).